FOB Price: US$999
After the purchase, we will contact you to pay shipping cost.
10pcs x TYT DMUVF10 DPMR Digital Radio 136-174/400-470MHz
NOT includes shipping
DM-UVF10, a dual display, dual standby two-way radio, adopts high-technology and novel design DM-UVF10 adopts humanism design, making it smart in shape, advanced in function and flexible in operation, with function of DTMF, voice scrambler and voice compander, will satisfy you and can hardly tear yourself away from it. More fantastic function, DM-UVF10 will take you to enjoy them.
Features:
| | |
| --- | --- |
| ■Digital dual-band | ■private call, group call,all call(Digital only) |
| ■color screen display | ■VOX function |
| ■dual display, dual standby | ■Backlight brightness setting |
| ■Digital/Analog switch | ■TOT |
| ■Voice scrambler | ■Busy Channel Lockout |
| ■DTMF function | ■Emergency Alarm |
| ■Remote kill,stun | ■FM radio |
| ■Contact list editing, storing | ■High/Low Power Selectable |
| ■Message Tx/Rx(Digital only) | ■Programmable multifunction side-key |
| ■English&Chinese Standby prompt | ■CTCSS/DCS auto-scan |
Specifications:
Model

DMUVF10

General

Frequency Range

136-174Mhz /400-470MHz

Channel No.

128*2

Frequency stability

+/-2.5ppm

Operating Voltage

7.4V

Antenna impedance

50Ω

Antenna

High and gain

Supply voltage

7.4V (Poly 1800mAh Li-ion battery )

Dimension

113.5 X 54 X 33.5 With Standard Li-ion battery

Weight

270g (estimate) With Standard Li-ion battery

Receiver

Channel Spacing

12.5KHz

Analog Sensitivity

0.35uV/-116dBm(20 dB SINAD)0.22uV/-120dBm(Type)

Digital Sensitivity

0.3uV/-117.4dBm (BER 5%)0.7uV/-110dBm (BER 1%)

Intermodulation

TIA603C:70dB ETSI:65dB

Adjacent Channel Selectivity

TIA603C:65dB 12.5KHzETSI: 60dB 12.5KHz

Co-Channel rejection

12dB 12.5KHz

Spurious Response rejection

TIA603C:75dB ETSI:70dB

Conducted spurious emission

-57dBm< 1GHz,-47dBm > 1GHz

Blocking

84dB

Rated Audio Power

1W

Audio Response

+1dB ~-3dB

Rated Audio Distortion

3%(Type)

Transmitter

Frequency

400~470MHz, 136~174MHz

Channel Spacing

12.5KHz

Frequency Stability

+/- 1.0ppm

Power

Low Power:1W,High Power:5W

Hum and Noise

-40dB 12.5KHz

Conducted, radiated spurious emission

-36dBm<1GHz, -30dBm>1GHz

Adjacent Channel Power

-60dB12.5KHz

Adjacent Transient Channel Power

-50dB12.5KHz

FM Modulation Mode

12.5KHz:11K0F3E

4FSK Digital Mode

12.5KHz(data only):7K60FXD12.5KHz(data+voice):7K60FXE

Modulation Maximum Deviation

2.5KHz 12.5KHz

Nonactive Slot Power

-57dBm

Audio Response

+1dB~-3dB

Audio Distortion

3%(Type)

Digital Protocol

ETSI TS 102 361-1, -2, -3

Vocoder Type

AMBE+2™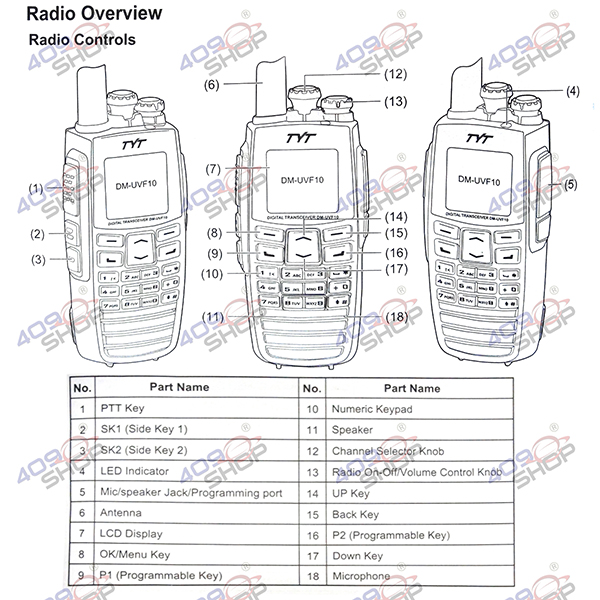 PACKAGE CONTAIN:
10 x TYT DMUVF10 DPMR Digital Radio 136-174/400-470MHz
10 x AC charger 110V-260V (Depends on your country)
10 x Battery (Lio-ion 7.4 1800mAh)
10 x Dual band antenna (short one)
10 x Belt clip
10 x Free long antenna
10 x English manual
---